Course Objectives
Increase Personal Income by Developing New Skills Daily
4 courses in 1! Ethics Course, Phone and Form Lead Management Course, Road to a Sale and Common Objections Course, and 365 day Business Plan to bring in Your Own Customers Course
The Power of Ethics and Focusing On Serving and Loving Customers - vs Commissions - and How/Why that ALWAYS Increases Income
Earn More with Better Lead Management Skills Training
How to better manage Phone Leads and set more same day appointments that show
How to better manage Form Leads and move email conversations to phone conversations that set appointments more often
Develop a High Performance Sales Process that Builds Relationship with Customers and creates referrals - even from guests that don't buy today
How to keep the customer moving through the sales process positively when they say things like: "We are just looking.", "You don't have exactly what we are looking for", "What's the best price I can get on this vehicle before I agree to a test drive?", "We need to do more shopping.", and "We need to think about it." - without discounting price.
Establish a 365-day Business Plan to Bring in Your Own Customers and Ensure Success.
Graduates of this course earn certification in Professional Selling, 365 Day Plan, Lead Management & Phone Training.
VIEW ALL
College of Automotive Management certificates are earned from verified skill development and 100% test scores.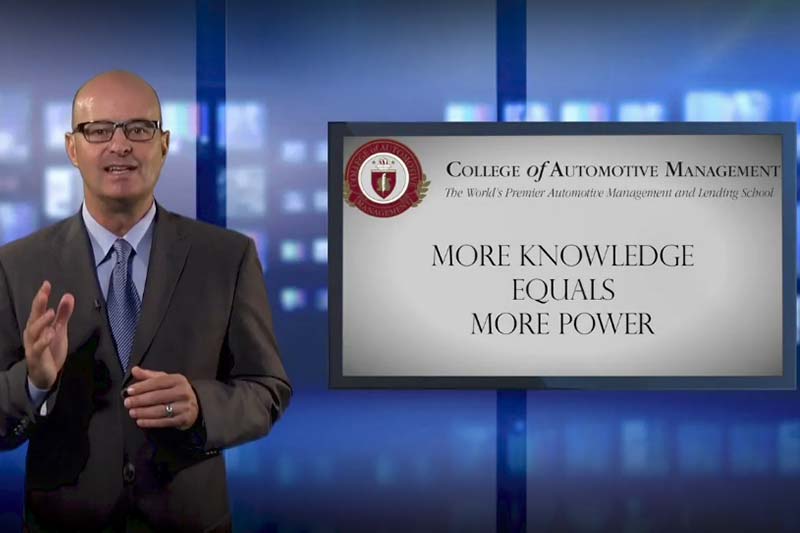 Get Instant Access
More information
Everyone Agrees They Make More Money with the Processes Recommended by the College!
Dealership employees all agree the Unique Sales Processes taught by the College of Automotive Management help them…
Increase sales quickly (higher closing ratios because people are more willing to buy from people they like and trust),
Receive referrals immediately (all customers leave happy), and
Achieve higher profits per sale consistently (customers don't mind paying a little more to be treated well by people they like).
As employees learn to focus on loving their guests in practical and unselfish ways they will increase their income, have less stress and be happier at work.